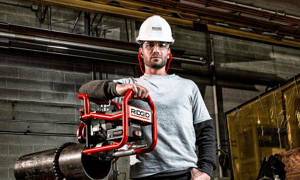 If you are an original equipment manufacturer, finding the right materials for your products is critical. Whether you manufacture heavy machinery, food processing equipment or medical devices, design electronic products or produce HVACR system components, it's important for your brand to visually stand out on your products. You need to be top of mind when customers and prospects think of the products available within your industry.
Representing your brand with a strong visual is all part of creating great customer-brand connections. An enhanced brand identity goes a long way in helping your customers and prospects develop a familiarity with your brand that eventually leads to loyalty.
One way to enhance your brand's visual identity is to add customized graphic overlays or industrial nameplates to your OEM products. Graphic overlays and nameplates—as well as OEM decals and product identification labels—put your brand's name directly in front of countless end-users every day. Bold, graphic overlays and nameplates will make your products instantaneously recognizable in a visually appealing way by impactfully featuring your brand's logo and/or colors.
How long they last is completely dependent on material selection—which is arguably the most important part of the design process. The right materials will ensure your industrial nameplates and graphic overlays positively reflect your brand for as long as possible.
Material Selection Should Begin by Considering These Questions
Any worthwhile decision starts with a complete assessment of needs. Consider these questions to start the material-selection process.
Applications and environments: Will your product be exposed to extreme hot or cold temperatures or abrasion? How about moisture or cleaners, sanitizers and other chemicals? In what environments will your product be used?

Product features and lifecycle: What is your product made of? Does it have highly irregular surfaces, flat surfaces or both? What's its projected lifecycle?

Budget: How much money do you have to work with?
With answers to these questions in mind, you should have what you need to begin selecting materials for your equipment overlays and industrial nameplates. The most common materials are:
See below for the performance qualities and common applications of each material.
Polycarbonate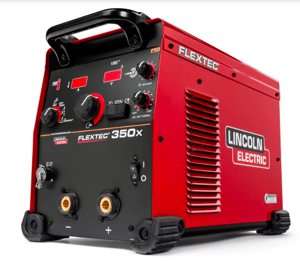 Performance qualities: Polycarbonate is an excellent choice for nearly all environments and applications. It's known for its durability and versatility in a wide range of surface applications, as well as its clarity and legibility. Polycarbonate can withstand temperatures up to 300 degrees Fahrenheit and also offers excellent resistance to stains, moisture, UV rays, abrasion and corrosive chemicals.
Common applications: Polycarbonate overlays are often used for caution and warning panels and dead front panels; polycarbonate is also used for decorative trim, embossed keypads and nameplates.
Polyester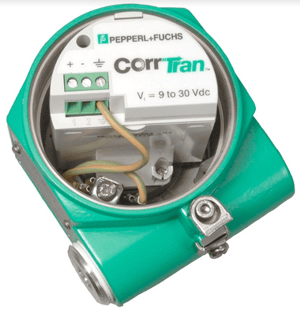 Performance qualities: Polyester can be an exceptional choice for resistance to high temperatures up to 300 degrees Fahrenheit and outdoor exposure. It also offers resistance to abrasion and scratches, as well as chemicals and corrosives. Polyester is excellent for keypads and switches requiring constant flexing, pushing and dimensional stability and for creating custom high-temp decals.
Common applications: Polyester is often used for caution and warning panels, clear-window and double-sided decals, embossed keypads, LED panels and serial tags.
Vinyl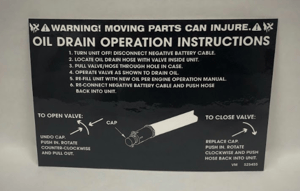 Performance qualities: Vinyl is an effective and affordable material that can provide a more economical solution than polycarbonate or polyester. It can provide the desired finished look for your product while offering moderate weather, chemical, moisture and abrasion resistance. It can also withstand temperatures up to 225 degrees Fahrenheit. Vinyl overlays are usually top surface printed and can be combined with other over-laminates and clear coats to help increase your product's durability.
Common applications: Vinyl is often used for caution and warning panels, logos and product identification labels.
Metal
Performance qualities: Metal can be a very durable material choice but is costly when compared to durable plastic alternatives. Metals are available with and without adhesive. Like polyesters, they can withstand excessive heat, however, they're susceptible to rust and fading.
Common applications: Metal is often used for nameplates, product identification labels and serial tags.
Material Selection Is About More Than Aesthetics
The right materials will ensure your control panel overlay materials and industrial nameplates remain attractive—and thereby positively reflect your brand—for as long as possible. But aside from improving aesthetics and customer-brand connections, choosing the right materials will also:
Promote safety: Overlays and nameplates are often used to provide operational instructions and safety precautions operators need to keep top of mind in order to do their jobs safely.

Prolong product life: Compared to panel covers, graphic overlays do a better job of helping prevent moisture, dust and debris from damaging the electronics underneath.

Reduce cleaning time: As continuous, smooth surfaces, graphic overlays are easy to clean compared to control panels with many knobs and buttons protruding from them. This reduces cleaning time and also ensures electronics are protected from cleaning agents.
Trust the Industry Experts to Help You Select the Right Materials
As a leader in the graphic design and printing industry for more than 50 years, we know which materials will work best for your specific needs. We also know that there are innumerable ways you can enhance the look, feel and functionality of your products using graphic overlays, industrial nameplates, product identification labels, OEM decals and other identification labels for equipment.
Let us help you select the right materials for your next project. Contact us today to discuss your needs or request a quote.